Today the boy returns to school after a pretty long break for Christmas.
Ah, I can finally sit and write in peace…or so I thought.
Fingers typing then…
"How is he going to travel that far alone?" sneaked up on me and I lost what I'm supposed to write here. Followed by a silent prayer that he'll make it there safely.
You see my father is leaving to return to Zambia this afternoon and being the worry wart that I am I just can't help but worrying about his trip. After his surgery last October, he's still on the road to recovery. So the thoughts of him flying to a far away land by himself scare me. It's such a long flight. From here he will fly to Dubai then to Johannesburg before the last leg of his trip to a small mining town in Zambia.
"Be careful!"
"Don't force it!"
"Ask for wheelchair at the airport to help you."
"Are you sure you have enough time between the flights so you don't have to run?"
Those were just some of the stuffs I told him since a few days ago.
He just laughed it off. Typical of him and I got irritated because he's taking it lightly while his only daughter fret like an old women.
Please say a few prayers for him if you can. May he gets back to Zambia safely and continue his recovery process. Thank you, friends!
♥♥♥♥
Okay, my 5 minutes is up. Come link up with Stream of Consciousness Sunday at All.Things.Fadra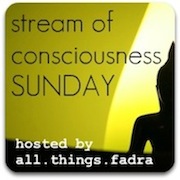 Updated:
My dad arrived safely in Zambia. Thanks for all the well wishes and prayers!