The early Monday news haunt me till this very minute.
9 innocent lives gone taken by one drunk, driver's license-less and a meth head girl on Sunday morning in Jakarta.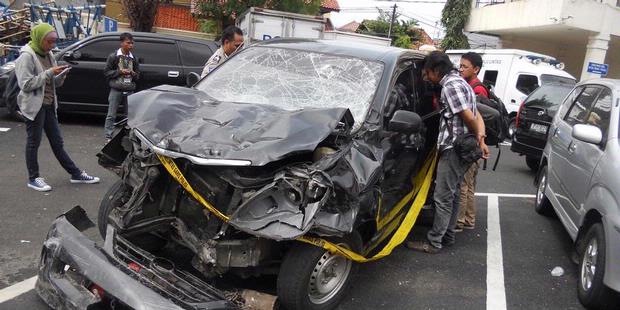 The driver and her 3 friends survived but those 9 lives are forever gone.
This has became a national headlines today and I feel sick down to my stomach.
Let me tell you, here, you ride the filthy public buses you'll get groped by perverts, you ride the train you will get squeezed like sardines. You ride public mini-vans and you get raped! Now it's not even safe to walk down the street? How sad has this city become is beyond me. This is just a daily part of commuting in Jakarta, a picture I took riding the all female train.
First of all, like I had blog before, sidewalks in Jakarta is pretty much nonexistent! They are either uneven, with dangerous pot holes, cracked or just pretty much occupied with those street vendors or covered with motorbikes trying to escape the congested traffic.
Now let's talk about drivers courtesy in general here. Guess what, it's pretty much nonexistent too.
As someone who doesn't drive here, I've heard my father vented out about how rude people can get once they are behind the wheels here, be it two wheeled or four wheeled ones.
Road courtesy is nonexistent. Driver's education? Nonexistent!
No wonder a lot of Indonesian drivers failed their tests if they attempt to get driver license abroad.
Do you even know how freaking easy it is to get a driver's license here? Just bribe and voila! You can now drive and put everyone else's lives at risk by having no ideas how to drive safely. The whole system is beyond broken and maybe that's why I refused to drive here.
What pissed me and so many millions other Indonesians are the facts that this girl would only face 4 to 12 years in prison for what she did. Really? It's a freaking DUI for God's sakes. Is that how cheap the price of one's life in my country? Among the victims were a 7 months pregnant lady. Killed with the baby inside! She went all Grand Theft Auto on these people and will just get a slap in the hand for it?!
This is so outrageous and make such a huge mockery out of our justice system. Personally, I think this girl should be handcuffed right away not tweeting and playing around with her Blackberry at the crime scene like shown on TV. From what I read, she had the time to locked her Twitter account just before she got arrested. There is no word to describe how disgusting that is. She should pay for what she did and spend the rest of her lives behind bars to think of those innocent lives taken by her stupidity!
So yeah, I guess in Jakarta walking now need to come with a warning label! Walk at your own risk.
What's DUI laws are in your country? 
Comments
comments