In my brief times living in America my heart had fallen in love with that country and here are just some of the random things that I still miss to this very day:
The clothing size:
Don't you love a place where there is a place for every curve in fashion? Well over there I don't have to struggle finding the right size. Just last week I saw an online seller from Jakarta stating that the blouse size is loose. What the heck? This has been one of my motivation why I need to lose more weight but yeah it sucks big time being a big boned-curvy-gal in Jakarta.
The comfort foods:
Oh those southern foods are the best! Fried ocra, gumbo, crawfish (with Louisiana seasonings) , Red Lobster!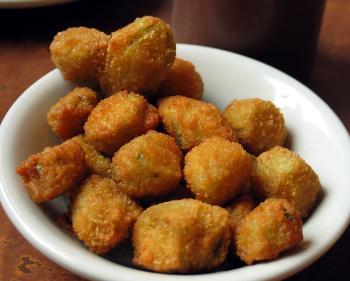 The seasons:
Autumn and Spring has to be my favorite times of the year. Those snows are pretty but just not my thing!
photo credit: nicolorion
The freedom:
Like the freedom of speech, guarded by their constitution. I just love how people can voice their opinions no matter how bad it is. Some other countries still doesn't have this kind of freedom. Freedom to be yourself without being judge by society. Freedom to wear whatever you want without being accused of looking for trouble.
The books:
I love books and it is so much cheaper to get books back in the States than in Jakarta. Imported books are expensive here.
The TV shows:
Some are not aired here and can't watch it online because apparently there are some countries who are not eligible to watch online streaming. Yes – I had tried Hulu to no avail –  so if I really miss Chelsea Lately or The Soup, I'll have to count on Youtube to watch it.
Online shopping
OMG how I miss shopping at Ebay, Amazon, etc! Yes, some seller will ship to Indonesia but of course at your own risk and our post office are notorious for their bad services and the rip off tax systems our beloved government have here will cause a dent in your wallet. Online shopping in Indonesia have different method. You have to transfer the money first then they'll ship it to you.
Retails therapy:
I cringe when I see GAP, Guess, etc and their prices in Jakarta. They made it look so very upscale here and the price tags are twice – maybe more than back in the States but there's no way in the world that I'm going to pay over $150 for a pair of Gap jeans! Did I tell you how much I miss Target, Macys, TJ Maxx. Btw, I love strip malls!
Garage Sales & Consignment Store:
The real ones! Most people still have the concept wrong here. They are selling new stuffs with discounts and call it garage sales – there is a group here that has been changing and educating people about what a garage sale really is. I totally miss consignment stores too like Salvation Army, Goodwill etc.
Discount Coupons:
I remember how fun it was doing to the coupon things. Scouring the Sunday paper to collect the coupons. Sorting them out and the happiest part? It saves me at the grocery stores. I'm hoping there will be more coupons using stores here.
The BBQ:
Nothing beats BBQ-in by your backyard with family and friends.
Customer Service:
Indonesia's customer service sometimes still feels like in a stone age, plainly, we sucks as a nation for customer service. I just love how companies actually care about your complaints and try so hard to please you! Customer is king there but here the attitude is: "If you don't like our service, feel free to find other company."
Equal Opportunity:
Without being asked about your age, your marital status, your religion, you have rights to get a job! I'm hoping when will our Indonesian ID Card will ditch those Religion and Marital Status columns.
Do you have anything that you miss from a country you used to live?