It was Wednesday evening…a cold breeze welcome us as we stepped our foots outside Bangkok's Suvarnabhumi International Airport after a long trip to get there – we are finally in Thailand.
We didn't get to our hotel The Holiday Inn Bangkok at Ploen Chit road until around 10 pm.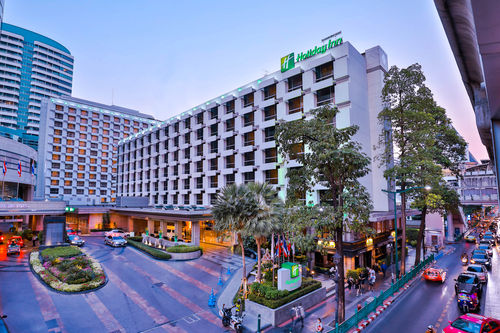 Holiday Inn Bangkok Review
As soon as our cab pulled over by the lobby, two doormen quickly came out to help. One of them almost squealed when they saw Lil' A stepping out. "Hey, I know you, boy!" – he said.
Confused, I smiled and asked Lil' A to said hello.
They ushered us inside the lobby and boom…right there, on one of their walls is my winning shot! Displayed on an LCD-like screen panel. WOW! It feels almost surreal.
Instead of checking in by their receptionist desk, we were directed to their Guest Relation Desk. I sat down, the lady who introduced herself as the Duty Manager asked for our passports and I handed them our gift voucher.
Someone came with two very pretty Thai style flower bouquet on a tray…they had been expecting us and we caused quite a scene I tell ya!
The Duty Manager told me that they had upgraded our room to a Suite, instead of two rooms as mentioned on my gift voucher. Can I get a triple WOW?! Yeah, it was such a shockingly sweet surprise. All these were recorded by their photographer who happily took our pictures.
Not only that, once checking in was done they wanted me and family to take pictures by the LCD screen with some of their staffs. Oh.my.God! I was tired, been up since 4 am, had a long journey, no make-ups on, hair pulled up. Wish we can do a do-over for that photo ops!
Ms. K the manager lead us to our Suite on the 7th floor. It was a really beautiful room, big and spacious. Two bedrooms, one living room, two large bathrooms. Lil' A was in heaven – well make that all four of us were.
The surprises don't stop there…in the elevator again, I saw my picture being put on a display.
Then when we entered the room, we saw postcards made out of the winning picture. It was on the beds…they gave us a handwritten welcome card from the Duty Manager, there were fresh fruit platters. It's just so beautiful. I absolutely love the little elephants stuffed animals they placed in our Suite as souvenirs.
Let's say that we all went to bed really really happy that night…
Honestly…that was so surreal I had to step back and savor that moment. Hard to believe that MY picture…my winning picture is being spread all over their hotel…the Suite…the royalty treatments. It was unbelievable!
Their hospitality is genuine not only to us but to everyone. All of their staffs recognized Lil' A and my brother who are both in the picture and they gave us such a warm welcome.
The hotel is not too big but to me they are perfect in size where you won't get swallow by a huge cold lobby. All staffs are super helpful and more than willing to chit chat with us, asking how we like our stays in Bangkok down to write down the names of places we want to see so that way we could just hand it out to taxi drivers.
One of their brilliant way to help their guests is the hotel's name card along with a small map, written in both English and Thai. Now that can save you a lot of hassles trying to find your way back to the hotel.
My favorite room of the Suite? The bathroom! Spacious…cozy, warm and perfect for a couple. It has sexy blinds which, unfortunately, doesn't work for me but Lil' A got a kick out of playing peek-a-boo every time Mommy went in the bathroom.
The little-stuffed elephants made out of Thai silk were spread in the beds and tables and made a memorable souvenir of our stays at the Holiday Inn Bangkok. The pillows…aaah I can't get enough of their "Pillow Menus". They offer 13 kinds of different pillows that you can choose to your desire. Very neat I should say!
Holiday Inn Ploenchit is located in the heart of the city of Bangkok. Just a stone throw away is the BTS (Bangkok Transit System) which pretty much is a sky train. Traffic in Bangkok can be pretty bad much like Jakarta. But to have this option is very convenient and will save you travel time to go places. Personally, to me this added more values to the Holiday Inn Bangkok.
Thank you Holiday Inn Bangkok for treating all of us so well and give us a truly memorable 3 days holiday.