My first time ever doing Fadra's famous Stream of Consciousness and her prompt is so good to pass this time around.
photo
credit:
FreePhotoResources
There is more than a mile long list that has been my annual new year's resolution throughout the year. Shed more weight, getting back in shape, bla bla bla…oh so many things I wish I can change but Fadra's prompt pushed me to think hard about what I don't want to change in 2012.
See how fast and easy it is to come up with lists of what we want to change but sometimes when asked what we're most grateful for and not wanting to change them we have to think extra hard, I know I did.
So, what I don't want to change in 2012? Let's see:
1. My friendships with great friends that I have found here. Friends who understand where I'm coming from and have been there for me pretty much through it all.
2. My will power to plow ahead no matter life threw at me. After the hell I've been through…I'm sure I could take anything.
3. The bond between my son and I. He's been saying "I will give you hundred, thousand, million hearts, Mommy." Every night after I told him "I love you to the moon and back, Pumpkin" he melts my heart all the time.
4. My family, I know I keep talking about how closely knit we are together but 2011 has strengthen our bond as we sailed through so many pain, sorrows and grieves together. I can only wish that 2012 will bring my parents and family lots of good health.
5. My ex-inlaws. I may have been officially divorced from their son but my mother in law, my aunt in law is still very much a part of my life and they will forever be. I love them to pieces and I'm thankful to have them in my life.
How bout you? What do you want to keep the same for 2012?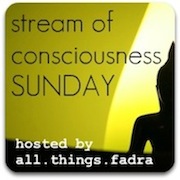 Comments
comments