"Breathe…" I nudge myself gently "And let it flow…"
My world is slowly shifting in a way that I didn't see coming. It's been slow and steadily changing.
Of course my first reactions were to secure and double check the fortress I build surrounding myself. Just to make sure that I'm safe within.
But as I plan to fall in love with myself this year, I decided to take that leap of faith and opened up a window. Yes, still a window…but it was enough for now as I got to look outside the thick cold walls.
What I see makes me smile, makes me laugh, makes me forget that I suppose to 'toughen it up' for a little while.
Then I began to share my stories. My pain, my battles, my demons. Stories untold just flow out like a broken dam, they were unfiltered, overflowing. It was raw and honest and as real as the tears shed behind every words.
Just like a pro, I would push it away. Try to scare it away when I feel it was getting way too close for comfort. With every brick that was crushed by its persistence, I quickly jumped and try to mold a new one. But the force is steadily coming. Gently…softly…
These bricks are starting to crumble on its own. Yes, it scares the hell out of me but the breeze of fresh air brushing up caressing my face and my soul feels so good after all these times. The warmth of the sun kissing my skin feels so right. For once I can shed my mask and be who I really am.
Maybe it's true…
It's like we are painting. We picked what colors to chose. Patience will be required as we put different colors, different strokes, different shapes on the empty new blank canvas. And when the time comes, we could take a few steps back to marvel at how painting with faith can morph into something beautiful.
So, I'm going to paint…painting with faith.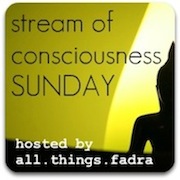 This is my Stream of Consciousnesses with the awesome All.Things.Fadra.
Picture from:
Dreamstime Free Stock Photos