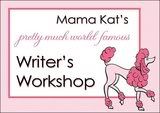 This week's prompt sounds like so much fun that I had actually started typing this on Wednesday afternoon while Lil' A is busy playing contently by himself.
Nothing more fitting, more appropriate to the first prompt than my short time 'living' in Guangzhou, China. Oh you wonder why? Simple, because I don't speak Chinese!
Other than "Xie xie" (thank you) and "Ni Hao Ma" (How are you/Hello) I have absolutely no idea how 'miserable' the first month there was going to be.
My third magic sentence is "Bu Ming Bai" (I don't understand)…well it's not really that magical because the local Chinese would only talked louder even after slowly and politely told them "Bu ming bai." My sarcastic mind worked on the same radio wave with Mr. X because he too found this amusing. Most of the locals would only talks louder as if by half screaming would make us understand Mandarin.
It took me awhile to had the nerve to venture outside our compound alone (well with Lil' A)…to the supermarket we went! That was an experience . Remember that show from early 90's? What do you call that…the supermarket race where people were given names of items and they had to scour the alleys to find it? Oh yeah, Supermarket Sweep, except this time it was in a super slow motion and I can't ask for any help!
One day, after been craving for some good ole' homemade hearty beef stew (perfect for winter dinner, yes?)…I decided to use an online dictionary to translated the ingredients I need into Mandarin – copy & paste into words – print and voila!….it works like a charm! All I had to do was showing it to the sales associate at the supermarket.
Armed with that new trick up my sleeve I even ventured out to the wet market not far from our place.
The worst least appealing experience was when Mr. X urged me to try a local spa at the mall nearby on one weekend. Off I went…although he already taught me – yes sadly he speaks fluent Mandarin now – what to say when I got there, my brain went blank! Had to call him and handed over the cell to the receptionist.
That's a moment where 'body language' was put to the test to it's max.
The traditional Chinese massage itself wasn't that bad but wasn't great either – or maybe I just got a very petite girl – but I was uncomfortable. The room or lack of it was too small and in the middle of the massage – yes while I was laying on my stomach, face down – I started hearing chit chats in Mandarin and saw not one, not two but 4 sets of feet!
Maybe they were gossiping about their boyfriends/husbands/whatever – but laying there half naked and most importantly not understanding a word – I wonder if they were talking about me, if my masseuse called her friends and said "Hey, look at this laowai (foreigner) she's as huge as a beached whale"
Despite those lost in translations moments, I really had a once in a lifetime experience there.
— Join the fun at Mama Kat's —