Do you read horoscopes or astrological signs on magazines or even online?
Sometimes I read them for fun, nothing serious. If I happen to be skimming through one of my mom's trashy tabloids and it's there yeah, I'd read it.
Somehow, I landed on a specific video on YouTube two nights ago. At first I was like "Oh, another mumbo jumbo about planets!" so I fast forwarded a bit then hit play. Just when I was about to close it down. The soft voice of the lady froze my finger mid air.
"You had a vision of your life and how it would be and what you discovered in the past 2 years or so…it's just like a giant big wrecking ball came and wiped it all away. Your life was dramatically altered for you. Things has not gone to plan. Two years ago you were dealing with the wrecking ball feeling of this. Destruction of something in the part of your world."
My jaws dropped…followed by my tears
Silently in the dark room, right next to my peacefully sleeping boy I started sobbing as this lady's voice 'talk' to me. This lady who was coincidentally or not was saying things so spot on about how my life has been in the past two years.
Altered Visions
No one wish they would get a divorce or wake up to face their biggest fears of confronting their cheating spouse and realizing everything has gone ashtray. To wake up and faced the final curtains.
Just like most girls, I used to dream of the whole beautiful wedding gown, its veil and such. Of walking down the aisle with my dad holding my hand before handed me, his only daughter to the hand of that one man I will spend the rest of my life with.
Yes, I got married. Not in a church but I got married to the man I thought forever was real and without any of my family presents.
I dreamed of babies…I dreamed of pink bows and I got a beautiful baby boy who makes me the proudest mama ever.
I never thought after having a baby I would hate everything but it happened and it only took nearly 4 years to find the name for those demons.
When everything started to fall apart I blindly tried to hang on. Bent myself over backwards, tried to patch those holes to keep the ship afloat without realizing the captain had physically and mentally flee. It wasn't until the water reached chest high and my bones shivering from the bitter coldness that I realized I better start swimming or I will simply drown.
My hopes were dashed…killed.
Grieving
Did I 'properly' grieve? I'm not quite sure. Yes, the first couple of months after I left him felt like a haze. All I could remember was I cried and rocked myself so much alone in a bedroom that belong to one of my brothers. I can't eat let alone function. Honestly, I can't remember much except for the sharp pain and the numbness.
Even when I thought I was used to the pain – after trying so hard to work things out – prior to me moving out, things has been hellish and hard. But facing the reality was even scarier than I thought.
Maybe I was on auto pilot mode…yeah, maybe I was. Then as I realized I still have a son who needs me much. I just plow through. One day at a time.
Wish I can get Xanax or something to help me through but nope…not even a counselor. Just some self help books and dear dear close friends. But sometimes I still wonder if that's even enough? Did I grieve enough? Or I just suppressed them so no one can see it?
Just the way I went to covered it all up on this blog and didn't come out about it until many months later. After writing daily about a happy family that didn't even exist anymore. How pathetic is that? Yeah, I did that.
My friends thinks I'm strong when in reality I'm not that strong. I still grieve and still cried once in awhile. Not as much as I used to but the grieves from the demise of my marriage is still there.
I don't want to be that girl, you know the one who keep talking about how her ex messed her life up so bad but I honestly feared I was slowly becoming her. I don't want my blog to be such a depressing blog. There was so many bitterness inside me. Still so much pain. And when people say "You're now divorced, get over it!" I feel like woaa wait till you get one and try telling yourself that! Maybe people deal with grief differently.
Ripples of Hope
This year will be the 2 years  since I moved out and left him. He has now remarried and moving on. So why can't I?
I broke one toe nail many years ago from doing white water rafting. Now if you see that nail, it looks perfectly normal but the numbing pain still comes and goes.
Will my heart mend like my toe? I'm sure it will eventually.
Almost two years…I should be further away from the epic center of the earthquake that shook and shattered my world. The destruction was done, my life has changed forever. I can now clean up and rebuild.
Last year I was still too close to the epic center. I can't even bring myself to go to weddings. But next month, I'm going to one. Yes, there will be moments where sadness would find me again – as part of life – but I'm hoping it would be far and few in between now.
Now, nearly two years later, I am moving out from the epic center. The further away I get,  I hope I'll get new visions of what my future will be like. That I can sense happiness again. To feel joy. To feel little glimmers of hopes.
Compare to the way it was, this should be enough to keep me going. So I will keep my eyes open and write down those glimpse of moments of hopes, of joys throughout this year. Let's see how many posies  I can make by the end of this year.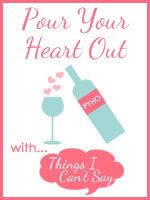 I submitted this post to Shell's famous Pour Your Heart Out because well these are the things that I can't really say until I decided to throw it out there.