This is a second guest post coming from my friend, Erita Mann she writes so beautifully that I just have to share another post from her.
A Child's World – The Cassava Girl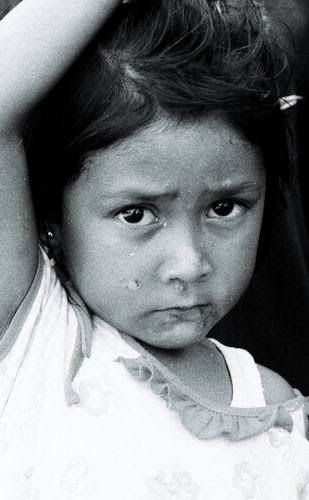 Pic from Black & White
Happened about two months before I moved to the state in 2003. It was a nice Saturday afternoon in Depok city, a suburb about 20 miles away from Jakarta. I grew up in this city. That Saturday afternoon, I had a wallet full of money and ready for some shopping in the mall.
I parked my car, and  as I was walking toward the mall I was stopped by a little girl, age 5 or 6, dark skin girl wearing an oversize originally white dress but look almost brown. She carried a black grocery plastic bag full of stuff. She said to me : "would you like to buy cassava chips?" and she pulled some individual chips wrapped in a clear plastic bag filled in with homemade cassava chips. I did not plan to buy it. I am not a big fan of cassava but I bought 3 bags from her. Rp.3000 each (about 25 cent). Then I went  shopping.
I came out from the mall happily with some shopping bags in my hand. I passed Dunkin Donuts located in the lobby of the mall. Then I saw the little girl who successfully sold me the cassava chips. Her black plastic bags was on the floor, she put both of her palms in the glass door of Dunkin Donuts. Excitement was in her face. I looked through the window, curios what made that little girl so excited about what she saw. There was a birthday party inside Dunkin Donuts. Kids were having fun, eating donuts, wearing the cone size birthday hats, laughing to the clowns, all the fun being inside of Dunkin Donuts enjoying the party.
I kept walking to my car and put the shopping bags in the trunk when I saw a security guy from the mall (or from Dunkin Donuts I am not sure) approached that little girl and told her to stay away from the door. That little girl would not listen and she did not move a bit. The security guy pulled her hand and roughly dragged her away from Dunkin Donuts. Some people saw that with disgust on their face towards the security guy but would not say a word, including me.
However, I had something else in mind when I saw that incident. I approached that little girl. I told her I wanted to buy some more cassava chips. Then I bought some more and handed her the money. She looked happy. Then I stepped into the car but my heart was telling me to do something else. I stepped out looking for the girl. She was still there, asking people to buy her cassava chips but she could not take her eyes off of the party inside Dunkin Donuts.
I called her and told her to come with me. That afternoon, part of Dunkin Donuts had a birthday party for a kid but the store still managed to sell their donuts for the public. I asked her which donuts she wanted but she asked me to pick one for her. I found a table that had an easy access to see the party. We were eating our donuts and enjoying the party at the same time. Well, I did not enjoy the party but the cassava girl did. She had a big smile on her face. What I enjoyed the most that afternoon was the short time I got to spend with her and to see her excitement of eating her first Dunkin Donuts and watching a birthday party she never has. That feeling I had was nothing compared to the bonus I got the day before.