Few days ago, while still in the midst of bloggy hiatus, I got an email from SITS that made me squeal like a little girl. Finally, my SITS day is coming and how can I say no to such a grand opportunity!
Yup, woot woot…my SITS day is today! Happy dance!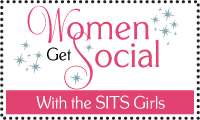 First of, welcome…welcome…welcome fellow SITStahs! If you're not familiar with SITS, let me introduce you to the most awesome community of women blogger in the blogosphere! And I have learn oh so much from joining SITS, have 'met' lots of really wonderful bloggers who later became friends.
G'day, Ladies!
While you are reading this, clicking through my blog – hey, I can hope right? –  I will be somewhere in Melbourne, Australia. I should be there  with my special someone enjoying wonderful times together.
Yes, yes… I am having a mini getaway with the boyfriend in his hometown and knowing that the day I will be in his arms is also my SITS Day just tripled my happiness and made September even more amazing!
My name is Maureen;
I'm a single mom to a first grader, blogging to you all the way from Jakarta, Indonesia. Some of you might remember my old blog, Tatter Scoops that chronicled my life going through divorce. This baby right here…Scoops of Joy was born out of sheer need to start something new, something fresh, something hopeful and full of joy.  I'm also a contributor on World Moms Blog – awesome website – do check it out!
So here I am today, a brand new person, a much happier woman on a quest to find joy in life through my writing, through being a mother to my awesome little man, through working out albeit my herniated discs, through healthy living also through loving myself completely and just about everything really.
My working out thing, it started as a way to get fit and to lose weights ended up allowing me to work on my inside. So not only I dropped the weight, I adopted a whole different outlook on life, on love. Here's a little before & current photo for your enjoyment.
Joy comes from within us and the more I harvest it from the inside, the more I am able to recognize it from outside of me.
Can't thank you enough for stopping by and say hello. Really, it means a lot! Please understand as I am traveling I may not reply right away but I will be back soon. In the mean time, why don't you stalk me as I share my pictures and snippets of the journey to the land down under either through twitter or my Facebook Page.
Much love and joy for you, friends!